Guestbook
If you wish, leave us a message 😉
You can also choose to write a review on TripAdvisor >
For comments, it is here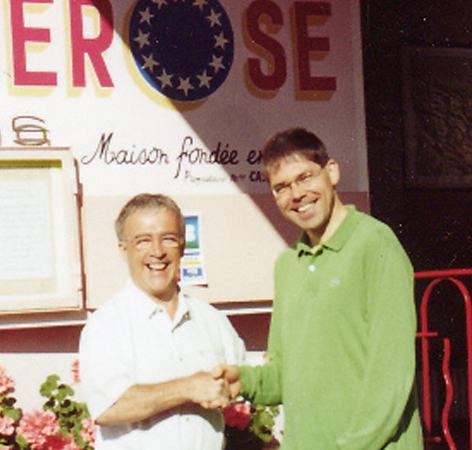 "Great place and great people"

September 2016
We had a fantastic stay here for some cycling. We can't thank Phillipe and the staff enough. Greeted like long lost friends and then given so much help with places to eat, mending the car and getting the most out of the place. Rooms are basic but fine. Food in the hotel is great too.
We would certainly return and ride from here again. It ideally placed for some really classy climbs.
---
"Good family run hotel and restaurant"

September 2016
What a lovely small hotel. The owners were very friendly and could not do enough for you. We were given a room with a balcony at the back of the hotel which was lovely and quiet and not overlooked. We had an evening meal here when we arrived which was local cuisine and good value for money. A great little hotel close to town and ideal if you are looking for a not too expensive place to stay.
---
"Great base for cycling"

September 2016
A family run cycling friendly hotel that is a great base for tackling the climbs in the area. Large breakfasts and dinners to keep the energy levels where they need to be. A comfortable clean room with air con and free wifi.
---
"Everything perfect"

August 2016
Philippe and Valerie made me very welcome during my week-long cycling holiday. Nothing was too much trouble for them, which made all the difference. The rooms are good – very good value – and the food excellent. A great place for cyclists and walkers.
---
"A cyclists' and walkers' dream bolthole"

August 2016
A perfect base for exploring the area on foot or by bike. Great location, comfortable rooms, good food and fabulous hosts. Philippe and Valérie could not have been more helpful. Super knowledge of local walks and rides, bike hire, bus routes, nothing was too much trouble.
---
"Great hotel in a wonderful location"

July 2016
I stayed here with five friends for four nights, on the half board cyclists package.
The location is central and there is ample parking. We all had expensive bikes with us so the secure bike store (with well spaced racks) was welcome. There are nice touches, like lots of rags for cleaning your bike and a track pump for example.
We were greeted warmly on our arrival and the atmosphere was very relaxed.
Our rooms were spotlessly clean and large enough, complete with a tv and air con unit. The external electric shutters meant perfect darkness at night and day! Bedding was great. We slept well!
Food was perfect and ample, I would recommends he cyclists package as the extra pasta course was ideal!
We will return to this perfect base for riding famous (and less famous) climbs.
Stayed July 2016, travelled with friends
---
"June 2016 cycling trip"

June 2016
Second stay at this hotel. Phillipe and his staff at the hotel are fantastic and always willing to help in any way they can. The hotel is superbly located, clean, comfortable and great in particular for cyclists and friends. The food never fails to impress. Thoroughly recommended.
---
"A Superb Cycling Hotel in Cycling Heaven"

June 2016
I stayed here for 9 nights. Argeles Gazost is a cyclists heaven and Au Primrose is the best place to stay in heaven. Pilippe, the proprietor, is a gem. He can't do enough for you and has set up his hotel with cyclists in mind – excellent bike storage, bike washing facility's, floor pumps,etc. The food is first class with 3 course meals (4 if you're on a cycling package) and plenty of it. The rooms are very comfortable, some have balcony, with plenty of cupboard space. Free wifi and parking. It's excellent value for money.
It's located centrally so it's just a short walk to the bars and shops of the town. There's also a beautiful big park opposite for an evening stroll. Riding options are endless and Philippe provides maps and advice. Local scenery is stunning and many of the iconic climbs are close by.
This is the best riding location I've been to, you won't be disappointed.
---
"Cycling holiday "

June 2016
Outstanding accommodation catering to cyclists. Secure bike storage, route maps and great meals. The staff are friendly and knowledgeable and the owner goes out of his way to help with any of your needs. All the major Tour rides are close and the local motorists are great. Highly recommend this hotel for a cycle trip to the Pyrenees.
---
"Great Cycling Hotel"

June 2016
Great clean hotel with ultra friendly owners in a small charming town. Perfect location for Cylists with potential daily rides from the hotel into the stunning Pyrenees. Owners will assist with cycling plans but just as good for non cyclists. Reasonable rates, highly recommended.
---
"wonderful stay"

May 2016
All you've read is true. Cozy environment, super-friendly and professional owners, great location and tidy rooms.
I was here by myself for 4 nights to do some cycling in the Pyrenees. Philippe welcomed me and gave a nice room with balcony looking out on the parc and the Hautacam mountain. He introduced me to like-minded travellers, made sure I could rent a bike on a official holiday and explained me the best cycling routes and in which order I'd best do them. The hotel has a special arrangement with the nearby spa for 50% off the normal price. Make sure you try it, you won't regret, beautiful place.
Certainly would recommend this place, will try to come again some time in the future with some friends.
---
"excellent hospitality, Adventure cyclist orientation"

February 2016
I stayed here for a week with a group of 16 cyclists. A friendly place with excellent meal service, great hospitality and a very secure store room for my bicycle. There are a weeks worth and more of mountain stages to climb in the area. Argèles also has a good bike shop nearby as well as many fine cafes up in centreville square.
---
"Probably the best little hotel we have had the pleasure of staying at!"

October 2015
We can't say enough good things about our stay at the Primrose. Philippe, the owner seemed to be at our beck and call and looked after our needs so well. The rooms were kept very clean, the dinners were excellent, the wine reasonably priced. It was nice to order a bottle of local wine and if not finished, that actually happened once, it was at your table the next evening.
Philippe caters to cyclists and that was really nice as we met and enjoyed visiting with other cyclist from many countries.
Philippe also was so very helpful in putting us in touch with a bike rental shop that provided us with excellent bikes for taking on the mountains at reasonable rates. The bike shop provided superb service, just what you would expect from a shop associated with the Primrose.
We highly recommend this lovely little hotel situated in the wonderful village of Argeles-Gazost!
---
"Great value hotel with excellent location and facilities for cyclists"

September 2015
Four of us (two couples) stayed here for six nights on a cycling trip to the Pyrenees.
The facilities for cyclists are great, with a capacious secure bike storage area and some basic tools available. The hotel is right at the foot of the Hautacam and the Aubisque and just down the valley from Tourmalet and Luz Ardiden.
The food is plentiful and excellent value. The (optional) evening meals are a fairly basic set menu but it's all solid fare and sets you up well for the big rides. We ate out on a couple of occasions and we liked "La Table d'Ayzi" the restaurant a couple of doors down specialising in locally-sourced meats.
Rooms are modestly sized and the configuration of some is a bit odd, but there's air conditioning and sleep quality was generally good.
Philippe the host is extremely helpful and speaks excellent English, so that makes life easier.
Because of the hotel's specialisation for cyclists, it does attract large organised cycling groups, so you need to be prepared for big groups around the place and in the dining room.
All in all, it was a great place to stay for our needs and fantastic value.
---
"A great location for cycling they "get" the needs of cyclists or walkers"

September 2015
Very clean, thoughtfully equipped hotel. For cyclists an extremely secure bike store with hooks for the bikes, rags to wipe them down, simple tools etc – also a large area to store bike transport cases etc. Secure off road parking if travelling by car. Evening meal and breakfast fairly basic but just what you need post or pre a strenuous day out – pasta/banana's in abundance. Philipe could not have been more helpful – we shall go back.
If not travelling by car the local bus stops right outside the hotel. Some rooms have views and a balcony.
---
"Simple Sturcture , Awesome Service"

September 2015
Philippe runs an excellent business and cannot do enough for you. In fact he is the perfect hotelier! The hotel itself is spotless, yet the structure is older. The bathrooms are more modern and their is good parking. Breakfasts are good, dinners not great, hence best to eat in a nearby restaurant, they aren't too expensive. Overall highly recommended for the cyclists who needs basic clean and friendly accommodation.
---
"Best Little Cyclist Hotel in France"

August 2015
It's a long way to come for those living in the Southern Hemisphere and you want to make the most of a visit when you do. This is my second time to cycle the col's and mountains of France and Au Primrose has been a delight. Catering specifically to cyclists (but also a nice place nonetheless) Philippe and his staff do all they can to make your stay easy. English spoken very well and plenty of advice available for those visiting for the first time. There is secure storage for bikes and some basic maintenance facilities. Rooms are comfortable with ensuite and toilets. Food is served inclusive of room rate and is designed to provide calories for a day in the saddle. With climbs right at the doorstep you couldn't find a better place to launch your Pyrenees adventure. Thanks Philippe for your hospitality.
---
"Great hotel, friendly staff, excellent food and facilities for cyclists"

August 2015
I stayed here as part of a group of cyclists to use as base for riding the local roads. The hotel offers great cycle-specific facilities such as secure, underground storage for bikes, a drying room for hanging up kit and an optional pasta course at dinner. The air-conditioned rooms were particularly welcome at the beginning of July when there as a heatwave. The proprietor Philippe and his wife Valerie were extremely attentive and always on hand to answer questions, and to serve coffee and cold beers on the terrace whenever requested. On each of the four nights we stayed, the dinner was excellent – both in quality and quantity – and certainly exceeded our expectations for such a modestly price hotel. And the availability of extra pasta after a long day's ride was great! I wouldn't hesitate to return here for another cycling trip.
---
"Great hotel for cyclist – however food is average"

August 2015
Stayed for 3 nights with some friends on a cycling trip. Very friendly staff, and perfect facilities for those wishing to climb the Pyrenees. Large secure bike storage area with workshop, and maps and advice on local routes.
The room was spotlessly clean and air conditioned, comfy beds and a good quality shower (something which is sometimes lacking at this price point).
Only letdown was the food, which overall I'd rate as average across the three nights we stayed – some good dishes but some that were quite poor. I would suggest booking to stay here, but eat in one of the many restaurants in Argeles Gazost.
---
Hi Philippe and Valérie,
Katrina and I would like to thank everyone working at the Au Primerose for a wonderful stay.
Hope we will both return sometime in the future,
Steve & Katrina – Juillet 2015
Dear Philippe
This is just a quick note to thank you again for a wonderful stay last week.
Kevin – Juillet 2015
Dear Philippe,
I just wanted to send you a short e mail to thank you on behalf of myself and my group for the friendliness and warmth extended to us during our stay
You can be assured that we will all be recommending the hotel to all of our cycling friends and that we will be returning sometime in the future.
Best regards,
Christian
Christian – Juillet 2015
Hi Philippe,
I like to thank you again for a great time we had last week.
Peer – Juin 2015
Bonjour Philippe et Valerie,
A very belated email to thank you and Valerie and your staff for giving us such a lovely holiday and for the warmth of your hospitality – we could not have wished for a better holiday! Thank you also for all your assistance before and during our stay with you, it made such a difference. You have a lovely hotel and we will have no hesitation in recommending it to or friends.
Nous espérons y retourner bientôt à Argelès-Gazost
Merci beaucoup Philippe
Best wishes
Stephen – Juin 2015
Dear Philippe and Valerie
I would like to thank you for being such wonderful hosts during our stay at Au Primerose. The standard of accommodation and cycling facilities at the hotel more than met our requirements, whilst the substantial breakfasts ensured we didn't go hungry on the cols. The wine you kindly gave me was excellent and didn't last very long on my return to Wales.
We hope to see you in the future.
Yours sincerely
Richard, Matt, Simon, Sion, David and Paul – Juin 2015
Philippe and Valerie,
Thank you for your hospitality during our stay at your hotel. We had a great time and I am very appreciative of your help with the riding, your suggestions on routes was spot on.
The Etape du Tour this year turned out to be a very tough ride with the rain and the cold. I think it is the hardest ride I have ever managed to do. Even the bike was feeling the strain of the day.
I hope to get back to the Argeles-Gazost in the future.
Jay – Juillet 2014

Philippe has made us very welcome as his mother did 21 years ago.
He is a very likeable young man and manages the hotel very well indeed.
We lacked for nothing, food excellent, service excellent and no complaints whatsoever.
Many thanks to you all
Sonu – Septembre 2012
Merci beaucoup à Philippe … and all his staff !
We were wonderfully cared for and really enjoyed our stay.
The cycle trips were also fantastic out of there.
We will thoroughly recommend the Primerose to our cycling friends back to Canada, Australia and New Zealand !!
Dave, Diana, Denis & Annie – Septembre 2012
We had a wonderful bike holiday!
The hotel is perfect located: It's ideal to enjoy the wonderful scenery that the region has to offer!
Philipe and his staff are very friendly and gave a perfect service!
The rooms were great: very good air condition, perfect matrasses and electric roll-down shutters. Rooms were perfectly cleaned every day.
For the cyclists there is a secured storage room with plenty of equipment.
Breakfast was good and adapted to the needs of cyclists if you wanted. Dinner also was well-cared for.
Hotel Au Primerose is absolutely a recommend for the bike tourists and everyone else who enjoys this wonderful scenery and the hospitality of the staff!!
Price/quality: 9.9/10
Vandenbroeck Luc – Août 2012
The hotel manager is probably the friendliest I have ever met. He was very welcoming, informative and fluent in English! The hotel location was fantastic, opposite the main park & thermal spa, and 400m from the town centre with beautiful views of the Hautacam. The rooms were clean and comfortable, the food was nice and it had a fantastic secure lock-up for cyclists and washing facilities. Whether you're into cycling, walking or looking for a relaxing holiday, I'd thoroughly recommend this hotel. (We shall be coming back here in the near future)
Tiago – Août 2012
Dear Philippe,
On behalf of the whole group: thanks a lot for all your services and your hospitality last week.
Our compliments! We've had a great time.
Stephen – Juillet 2012

Philippe,
We enjoyed our stay au Primerose immensely, but your attentiveness and kindness made the experience perfect. Thank you
B. Malcolm and Julia – Avril 2010
Philippe has made us very welcome as his mother did 21 years ago. He is a very likeable young man and manages the hotel very well indeed. We lacked for nothing, food excellent, service excellent and no complaints whatsoever. Many thanks to you all
F. Mary and Peter – Avril 2010
Thank you for a wonderful stay. You are a perfect host and we enjoyed your hospitality and advice for our daily trips
A. John and Liz – Avril 2010
Dear Philippe,
Herewith we whish to thank you for your kind hospitality, it was a very good week for us and we will make advertising for you. Best regards
Arie De Regt and friends – Avril 2010
Dear Philippe,
Thank you for a great time. Fabulous hospitality & great place for cyclists!
P. Jonny – Avril 2010
The hotel manager is probably the friendliest I have ever met. He was very welcoming, informative and fluent in English! The hotel location was fantistic, opposite the main park & thermal spa, and 400m from the town centre with beautiful views of the Hautacam. The rooms were clean and comfortable, the food was nice and it had a fantastic secure lock-up for cyclists and washing facilities. Whether you're into cycling, walking or looking for a relaxing holiday, I'd thoroughly recommend this hotel. (We shall be coming back here in the near future)
C. Stuart – Avril 2010
Thanks Philippe we had a great week at your Hotel. Everything was good, and Philippe was excellent!!! The boys from Maarssen are very lucky we've booked our holiday at the Primerose in the center of great cycling places.
Nothing more than THANKS!!!
E. – Avril 2010
Argeles-Gazost is a perfect location for visiting the Pyrenees, and it is also the type of town I love: quiet, not so crowded with tourists. Hotel locates in very good view corner. Philippe is so kind to help us for all of informations. We thank his hospitality and help.
Jamie Y. – Avril 2010
Argeles-Gazost is the best base we've found for cycling in the mountains. The Primerose is an excellent hotel, and Philippe and his team are superb.
Many thanks!
Nigel W. – Avril 2010
Great hotel in a wonderful area. All famous Tour mountains are within 20K from the hotel and if you stay longer there are enough unknown but challenging alternatives! The hotel is just what you need. Rooms are fine and the food is good; and all of this for a very decent price!
TJ.d – Avril 2010